Editorial —
06 September 2022
Osservatorio rymes with design, experimentation and imagination.
The sparkle started in 2021 and in May 2022 Osservatorio opens to its first guests. Its setting is the penthouse rooftop of Hotel Plaza Opéra, the four star design hotel, overlooking the Palermo city centre skyline. Its futurist colors, shapes and transparencies have caught the eye of Luca D'Arpa e Marcello Leone – partners and managers of Ferramenta, one of the top restaurants and bars in the historical city centre – believing and willing to invest in a new approach to fine dining, backed and supported by the management of The HotelSphere Hotel Collection, the group to which the hotel belongs.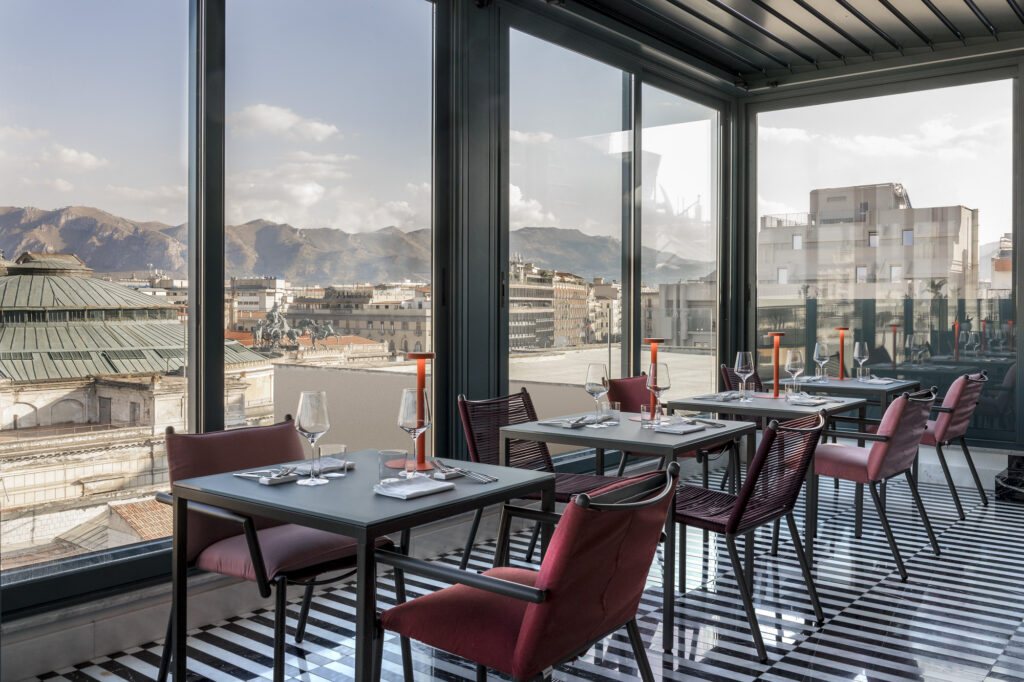 The concept of Osservatorio was developed by Ovrll and Claudia Guarino, the restaurant's Marketing and Communication Strategists: it is a place where the act of observing and seeking innovation, care for details and a love for landscape becomes the key to a new kind of experience, savouring with sight and experimenting with taste.
The architectural project transforming the former solarium terrace of Hotel Plaza Opéra into a living and dining environment represents a milestone in the history of the property, and, supported by the hotel management, its was curated by Lycia e Gaia Trapani, founders of LYGA Studio, contemporary designers focusing on Mediterranean inspiration and a strong use of colour.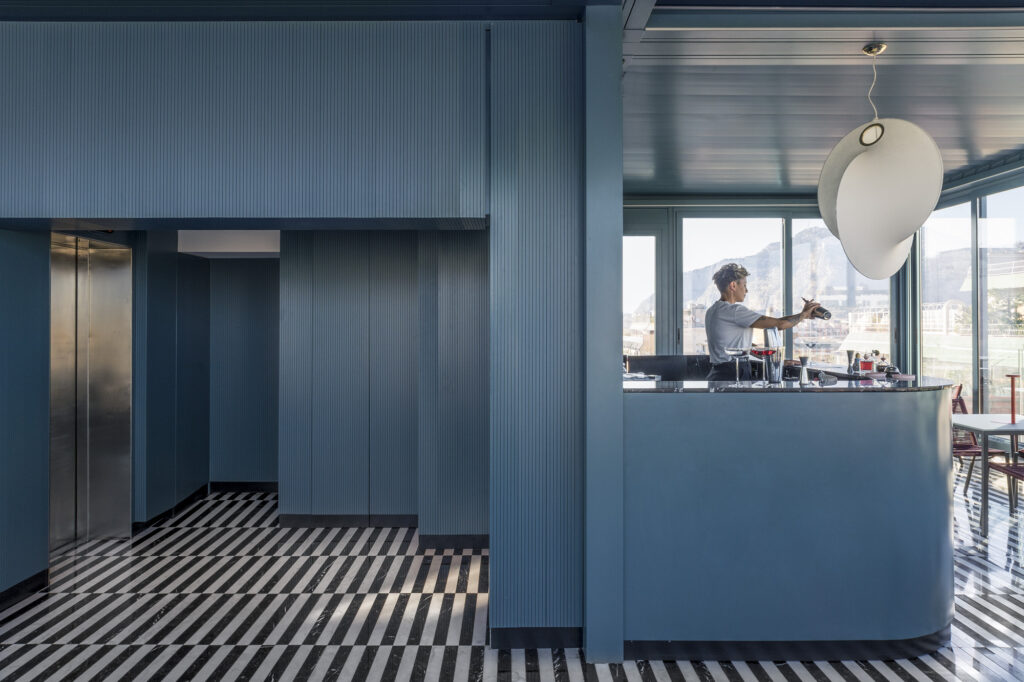 Menus bear the signature of Ivan Spitaleri, young Sicilian chef that after 12 years spent in France, the Canary Islands, Thailand and Costa Rica, discovering foreign culinary traditions and customs, decided to go back to Italy. His cuisine carries on a research on Sicilian tradition while playing with ingredients, techniques and processing methods from other food cultures. Osservatorio's menu will be appreciated by Mediterranean cuisine lovers who are also willing to discover a more experimental approach to fusion.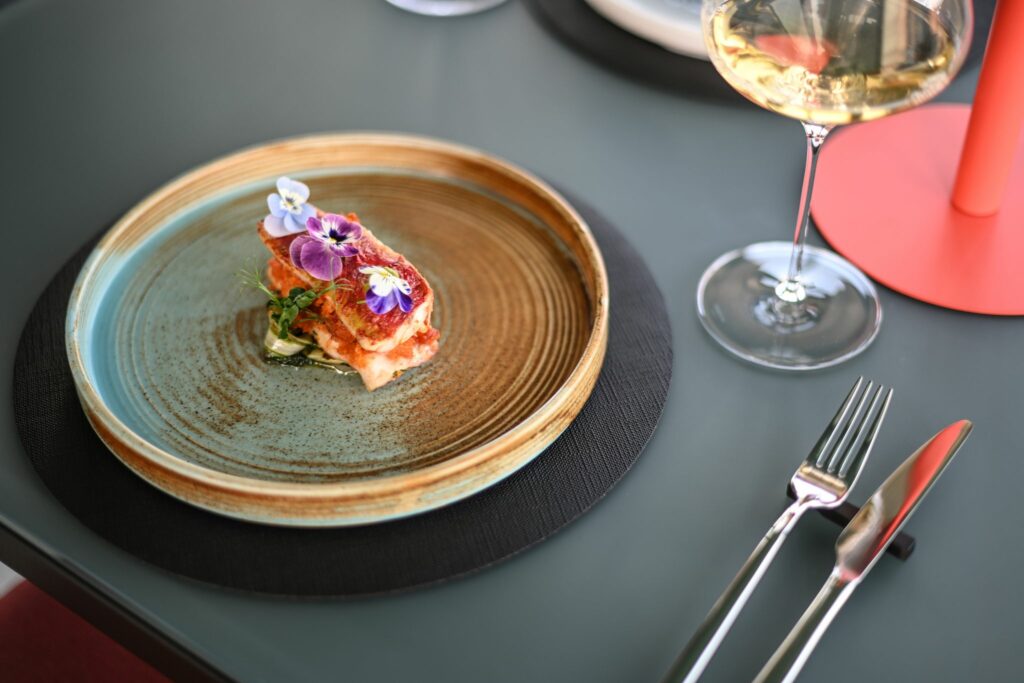 The wine list includes around 140 labels, selected by Francesco Di Leonardo, wine manager at
Osservatorio and Ferramenta, with the support of Barbara Boccia, the company sommelier.
Wines are meant to highlight the food offer, accompanying diners on a trip to discover the most interesting wine-making regions. The list is international, with a majority of Italian and French labels, and a strong prevalence of Sicily, especially of the Etna DOC.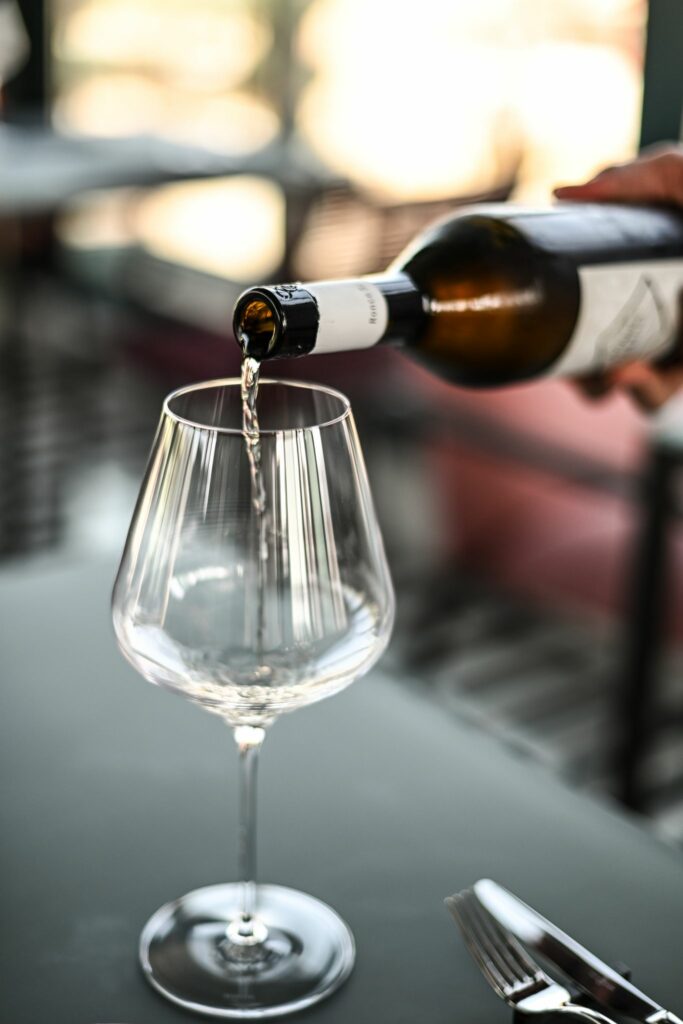 Osservatorio features an amazing mixology offer – created by bartender Maria Chiara Randazzo, coordinated by Alessio Gioia, bar manager at Osservatorio and Ferramenta – which plays a key role in the restaurant mood, thanks to food paring options with dishes and tapas. Observation guides the cocktail preparation, using innovative ingredients, state-of-the-art techniques and unusual flavours. The use of high quality spirits and liqueurs, seasonal fruit and vegetables and the dialogue between the bartenders, experimenting with consitencies and techniques make it possible to always propose new cocktails.
Osservatorio's mission is to create good memories in our guests, both when experimenting new flavours or when choosing a more classical drink.